Tanya Rudenjak Ceramics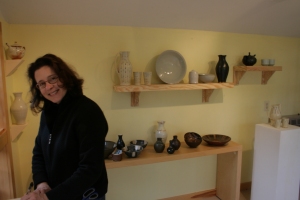 Bio
Tanya Rudenjak was born and raised in New York City. As early as she can remember her mother, a painter, photographer and illustrator, exposed her to the arts and encouraged her creativity. Her first trip as a newborn was to the Metropolitan Museum of Art. Tanya had the privilege of visiting various museums, galleries and art sites in Europe since her father worked in the travel business and loved travel and art. While continuing to explore various art forms she earned a Bachelor of Arts degree in Women's Studies with a concentration in French from Barnard College in 1992.
During her first year of college she learned the basics of pottery and after graduation her focus returned to ceramics. She studied at Greenwich House Pottery while assisting Bruce Winn and later studied with Louise Harter at Supermud Pottery. After attending a summer school program at New York State College of Ceramics (NYSCC) with Val Cushing she decided to pursue her ceramic art studies more fully and in 1998 earned a Bachelor of Fine Arts degree in Ceramic Art at NYSCC at Alfred University.
She moved to Ann Arbor, Michigan in 1999 where she became the program coordinator for ceramics and sculpture at the Ann Arbor Art Center. She furthered her studies and received a Master's of Fine Arts degree in Studio Art (concentration in Ceramics) from Eastern Michigan University in 2006.
Before moving to Keene, New Hampshire in 2008 Tanya taught at various universities, colleges and community art centers in Michigan. She currently teaches at Keene State College. She has presented workshops at Bennington College, Bowling Green State University and Hartford Art School at the University of Hartford.
Along with teaching Tanya is a studio potter. She has been part of the Vermont Artist's Tour as well as the Keene Art Tour and sells her work locally at Gallery in the Woods in Brattleboro, Vermont and Hannah Grimes Marketplace in Keene, New Hampshire.
Her works have been exhibited nationally and internationally and most recently in the Strictly Functional Pottery National and at Baltimore Clayworks, Pewabic Pottery and Detroit Artist Market. In 2013 her work was featured in
500 Teapots Volume 2
published by Lark Books.
October, 2014